Some people may envision the Louisiana coast as a monolithic landscape, but to wildlife the environment is actually a mosaic of many habitat types. A diversity of species, particularly birds, has evolved to depend on specific habitat characteristics within this diverse coastal Louisiana landscape.
As such, Audubon Louisiana recently created BIRDS of LOUISIANA'S COAST, an info-graphic intended to highlight vital coastal habitats within the state and a selection of bird species that depend on them. The info-graphic also highlights environmental threats that each species faces, as well as coastal restoration projects anticipated to benefit them.

It is no secret that Louisiana is losing coastal habitat at an alarming rate – a football field every hour. A sediment starved delta, subsidence, and sea level rise are three major culprits threatening the sustainability of our coastal ecosystem. And sadly, this loss threatens many bird populations that depend on the wide variety of habitat our coast provides. Indeed, shorebird populations have shown dramatic population declines with the loss of these coastal habitats.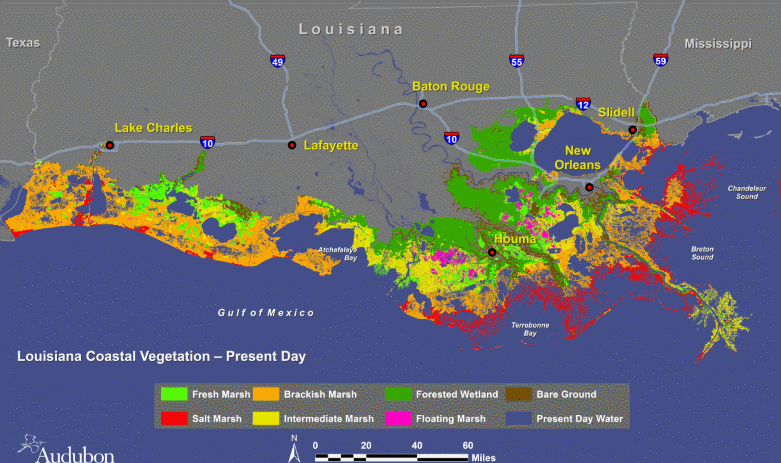 Still, it is estimated that Louisiana's coast supports 100 million migratory, nesting, and wintering birds annually! For the benefit of birds and people, Audubon Louisiana will continue to advocate for the large-scale coastal restoration projects that protect and enhance these vital bird habitats and restore our coastal areas. We will also stay committed to stewarding Louisiana's coastal habitat, from the western most beaches in Cameron Parish, to the recently completed Caminada Headland Beach and Dune Restoration project in the southeast.
Explore the infographic that showcases how important Louisiana's coastal areas are to a wide variety of important bird species. Over the coming weeks, we'll share posts highlighting individual bird species with statistics on how important coastal Louisiana is to these species and what the risks are of continued land loss. We encourage you to share your own photos of the birds you encounter across Louisiana's coast, using the hashtag #BirdsOfOurCoast through Twitter and Facebook tagging Audubon Louisiana, to showcase the beauty and diversity of Louisiana's habitat and highlight how important coastal restoration is to protect our birds and people.